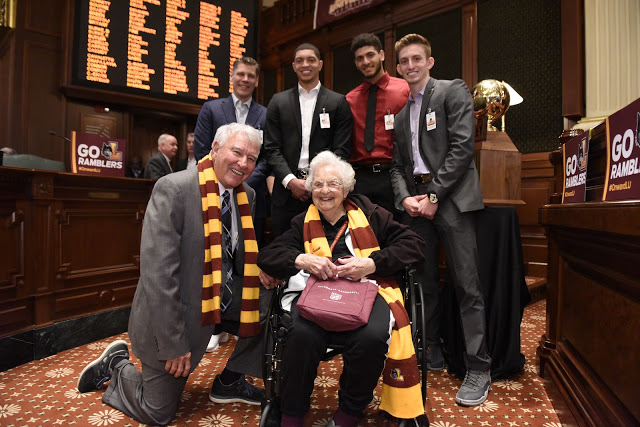 State Rep. John Cavaletto, the former basketball coach who took his Breese Mater Dei Basketball Team to the Illinois finals tournament in 1974, welcomed the Loyola University Ramblers Basketball Coach Porter Moser, Team Chaplain Sister Jean and some of the players to the Illinois House Chamber this week.
"I remember well the excitement and hard work of taking an underdog team all the way to the finals," said State Representative 'Coach' John Cavaletto. Cavaletto's colleagues in the Illinois Legislature call him 'Coach' as a respectful acknowledgement of his past work as a basketball coach at Mater Dei Catholic High School in Breese, Illinois. "These young men and Coach Moser will remember this season for the rest of their lives, and I join our entire state in congratulating them on a job well done!"
Coach Porter Moser just completed his seventh season, one of the most historic in Loyola history, as the Ramblers' head coach and has guided the team to a pair of postseason appearances in his tenure in Rogers Park, along with a No. 7 ranking in the final 2017-18 USA Today Coaches Poll. In 2015, Moser piloted Loyola to the College Basketball Invitational title in the program's first postseason berth of any kind in 30 years before steering this year's squad to the Final Four, the first time it had advanced that deep into the NCAA tournament since winning the national championship in 1963.
Also 98-year-old nun, Sister Jean Dolores-Schmidt, who acts as the chaplain for the Loyola University Chicago Ramblers, became one the most recognizable figures in U.S. sports following the team's back-to-back upset wins in the NCAA Tournament this year. Sister Jean, who has fond memories of celebrating Loyola's last championship win in 1963, was a cult figure in Chicago sports even before she became the team's chaplain in 1994. But she's no mere mascot and she offers more than just thoughts and prayers. The former player and coach herself provides scouting reports, pregame speeches and post-game analysis by email, along with more spiritual guidance. Learn more about Sister Jean by clicking
here
to read an article by The Guardian.